Here is your
Random

QR Code
About
RandomQR was created to easily create QR codes for testing purposes or the odd gimmick found in games, where context isn't hugely important.
Since then, its functionality has expanded with a QR Code Generator supporting URL, Email, Text, SMS, Telephone, and Wi-Fi QR Codes.
Just launched!
QRMetric
Create customisable QR Codes that can be updated and tracked even after sharing or printing. Get started for free!
Get started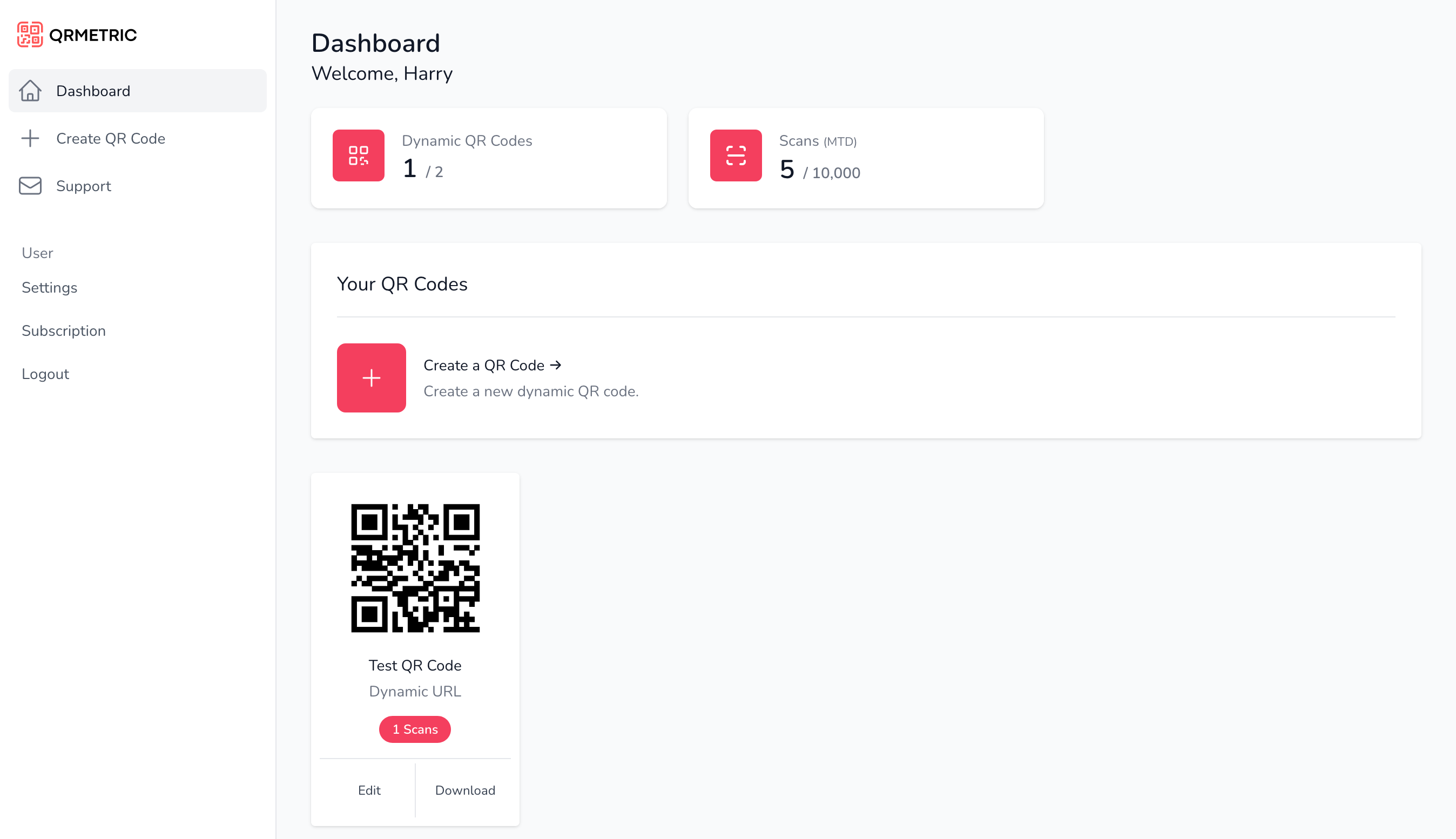 FAQ
What is a QR Code?
A Quick Response Code (QR Code), when scanned, can tell the device scanning the QR code on how to handle it. This could be instructing the device to open a web page, send an email, or sharing a username/password for a Wi-Fi hotspot, to name a few.
How do I scan a QR Code?
Modern smartphones are capable of scanning QR Codes with the built-in cameras. Some offer this functionality out of the box with the preinstalled camera application, alternatively an app can be picked up from the respective app stores.
What data does RandomQR Keep?
RandomQR runs completely client side. This means that anything you type into RandomQR will not be sent to any third party server. Cool, right?
Can I modify my QR Code?
QR Codes can still function even when their colours are changed. You can even customise the corner points and add your own image to the centre of a QR Code.
It is a good idea to test your QR Code on a number of devices and scanners before distributing the image.
What can I use a QR Code for?
QR Codes work great for sharing data to your friends, colleagues, family, and the general public. You could share an email address for example, and even include a pre-written message subject/body to help your users along.
What good is a Random QR Generator then?
Sometimes we just need a QR Code and we don't care what data it has. This can meet the needs of a developer looking to test a QR scanner app, or a specific mechanic in game. (Pokemon Sun & Pokemon Moon for example)
QR Code Types
Random

Create a QR code containing a random string or email address. For testing, mocking, or other purposes.

Email

Quickly share an email address alongside a subject, and even a message.

URL

Link to a website, blog, product, or social media to let people know where they can find you.

Text

Share a few words with people to use in a variety of applications.

SMS

Request people to send a specific message to a provided mobile number.

Telephone/Mobile

Share a contact number for a support desk or other enquiries.

X (Twitter)

Share a Twitter/X handle or a pre-written message for your users to post.

Bitcoin

Easily request payments or donations using a QR code without asking your users to type a long sensitive string manually.

Wi-Fi

Protect your Wi-Fi with stronger and longer passwords while being easy to join for your users.

PDF ✨

Share a PDF file like a menu, brochure, or product guide.
Get More with QRMetric
For a limited time only, QRMetric is offering a 25% discount on all subscriptions. Stop guessing if your QR codes are being scanned with customisable QR codes and scan tracking.
Free QR Code Generator
Toggle between mode of randomness: